OUE e
mpowers students of all backgrounds and stages of life.
OUE encourages all students to learn and contribute to technological and human progress.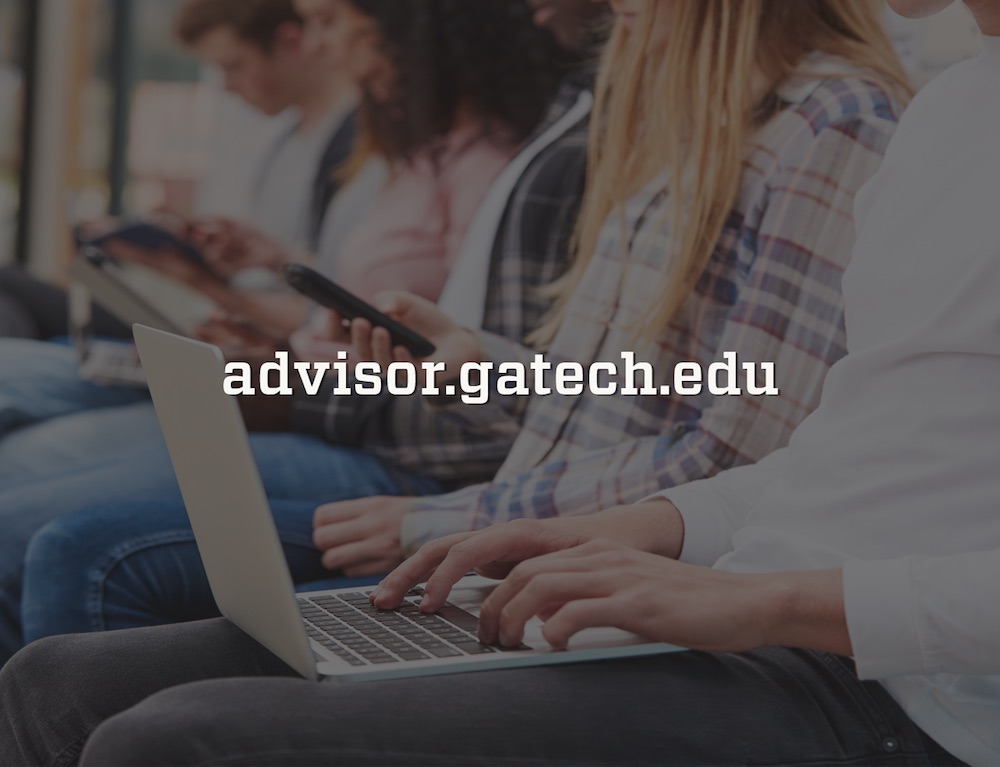 New Advising Solution Reshapes Advising Experience at Tech
Georgia Tech's new advising solution, Advisor Link, went live Fall 2020. The new solution is powered by Salesforce and replaced the undergraduate advising system, GradesFirst. The implementation of Advisor Link supports recommendations by the provost's Academic Advising Task Force to integrate more technology, analytics, and data reporting within academic advising at the Institute. The task force was assembled as part of the larger initiative, Advising for a New Era, which challenges inconsistent approaches to advising by addressing opportunities to establish common practices in advising and provide more visibility into the student journey at Georgia Tech.
OUE Hires Inaugural First-Generation, Limited Income Program Manager
In Spring 2021, CCG/Retention expanded services by hiring Charmaine Troy, the Institute's first program and operations manager dedicated to supporting first-generation and limited income students. Concurrently, CCG/Retention formed a collaboration with Mentor Collective (mentorcollective.org) to pilot a peer mentoring project, First-Gen Jackets, for incoming first-generation students. Funded jointly by OUE and Enrollment Management, the project was approved in spring 2021 with a launch date in summer 2021.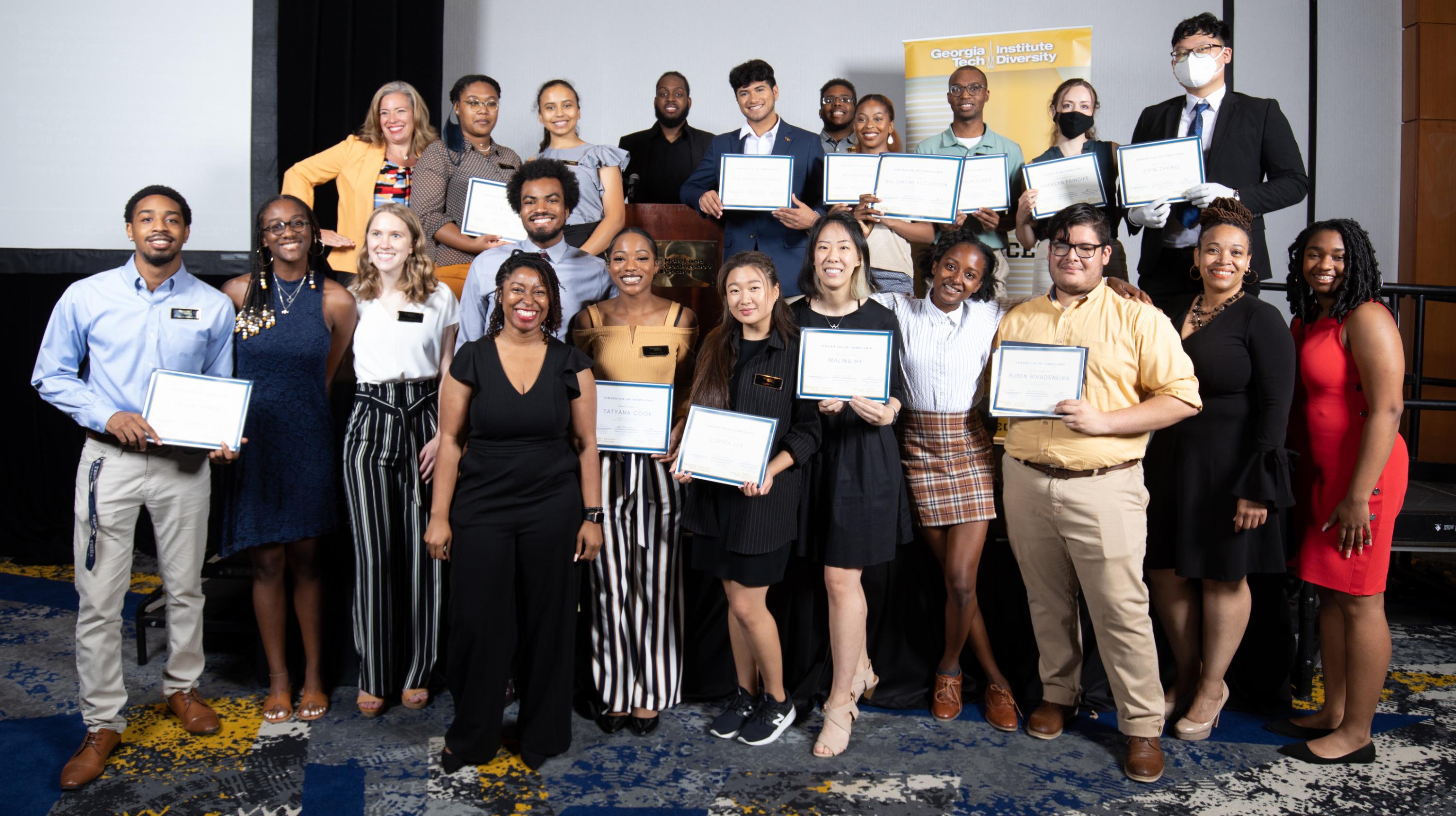 Career Center Collaborates on Career Immersion Program
The Career Alliance, which began in Spring 2021, is an initiative designed to ensure full and equal access to career readiness experiences for all Georgia Tech students. This effort was inspired by Georgia Tech's participation in the Taskforce on Higher Education where 34 academic institutions are collaborating to prepare our nation's most vulnerable students and graduates of 2020-2023 for success in the post-pandemic economy. Georgia Tech Career Center has partnered with OMED and Strategic Consulting to provide a 3-week Career Immersion Program to limited-income students that had little to no engagement in co-op and internship experiences. The program was designed to address unique and emerging post-pandemic barriers to career readiness while broadening the impact of current career service programs. 
The Career Immersion program provided 32 overall workshops, 18 being led by the Career Center, to a cohort of 24 students. 
CCG Continues to Expand Access to Georgia Tech Students
Established in 2011, Complete College Georgia-Georgia Tech (CCG-GT) is an Institute initiative designed to analyze and impact the retention, progression, and graduation of Georgia Tech undergraduates. Since the initiative's inception, the 6-year graduation rate for Georgia Tech's first-year student cohorts has risen to almost 92% from a baseline near 80%. The number of undergraduate degrees awarded has increased more than 25%.  
Part of a University System of Georgia state-wide project and in alignment with the Institute Strategic Plan, CCG-GT is a collaborative effort across multiple Georgia Tech units. Our impact-driven, student success strategies include: 
Targeted K-12 outreach to pique interest in STEM and programming to retain currently enrolled STEM majors. 

Programming to promote the academic success of underrepresented minorities. 

High-impact curricular and co-curricular opportunities to enhance students' engagement and academic development. 

Interventions to promote the success of students who are underperforming academically or who may be at risk for not continuing their education. 

Peer-led instruction for students in traditionally challenging gateway courses. 

Summer online undergraduate courses and on-campus summer session initiatives to help students stay on track to graduation. 
CCG Hosts Online First-Gen Student Celebration
CCG/Retention partnered with Parent and Family Programs, the Library, and the First-Gen Student Organization to host an online First-Generation Student celebration event. Organized as a panel discussion among students and faculty/staff identifying as first-generation and moderated by First-Gen leaders, the event proved very successful, allowing for broader participation than in-person, on-campus events in previous years.   
Similarly, CCG/Retention partnered with Admissions and Parent and Family Programs to develop and present Navigating Georgia Tech as a First-Generation Student webinars during summer 2020. Incoming first-generation students and their parents participated in one of two sessions aligned with other FASET programming. The webinars increased engagement between first-generation students and the Georgia Tech units supporting their success.  
Hosting these events online was an innovative approach, necessitated by Covid-19. Yet, the response to the online programming was overwhelmingly positive.
Diversity First, Reversed Career Fair

 
Diversity First, a student showcase event, was held for the first time in Spring 2021. This reverse career fair connected student executive boards from eight different populations with 28 companies and organizations who have a strong commitment to DEI. Students had the opportunity to practice networking and professional development by engaging with the employers through presenting on their student group's mission, organizational structure, program, and sponsorship opportunities. This platform not only gave the student organizations the opportunity to benefit fundraising and corporate partnerships, but also allowed the companies to create unique relationships with GT student groups. This benefited the Career Center in strengthening student and employer outreach and partnership. 
Career Center Offers Experiential Education Stipend

to IAC Students
The stipend, funded by the Ethelyn and Albert Daniel endowment, was established in Fall 2020 to provide financial support for Ivan Allen College undergraduate and graduate students who seek to gain knowledge about career opportunities in their major through unpaid internships with non-profit and community service organizations. The stipend allows for additional experiential opportunities to be developed, and makes it possible for IAC students to pursue these types of opportunities without feeling the constraints of financial burden, while also supporting our community and these organizations' growth with valuable talent. 
Video: Georgia Tech Career Center Spring 2021 Experiential Education Stipend Recipient, Madi Wickett
"My internship at the Carter Center has allowed me to use all of the skills I've built at Georgia Tech, including both my liberal arts education in international affairs and French and the technical background I gained from my minor in Computing & Intelligence. First-hand experience of how development, security, and theory manifest themselves and impact the international community has been an invaluable learning experience. I have also seen the realities of working in an international non-profit and been able to speak with professionals in my desired field about graduate school and career planning. The IAC Experiential Education Stipend helped me pursue an internship that highlights my research interests and what I've learned in the classroom. Without the stipend, I would have stayed at my on-campus job instead of gaining an incredible educational experience."
Madi Wickett (International Affairs & Modern Languages) 
Career Center Provides Access for GT Alumni
The Career Center provides support and services not only to currently enrolled students, but extends that support beyond graduation. For alumni interested in using the center's services, the Career Center lifted the $30 alumni fee for access to the CareerBuzz job database in AY 20-21. Since this change has been instituted in spring 2021, over 1,000 alumni have accessed CareerBuzz.