OUE is a leader in providing innovation & entrepreneurship opportunities for students.
OUE collaborates to create economic opportunity and mobility and position Atlanta and Georgia as examples of inclusive innovation.
InVenture Prize Wins Southeast Emmy Award
The Georgia Tech InVenture Prize won its fifth Emmy Award, in the category of Special Event Coverage – Live. Out of the 1,260 entries from Alabama, Georgia, Mississippi, North Carolina, and South Carolina this year, about 127 received an award.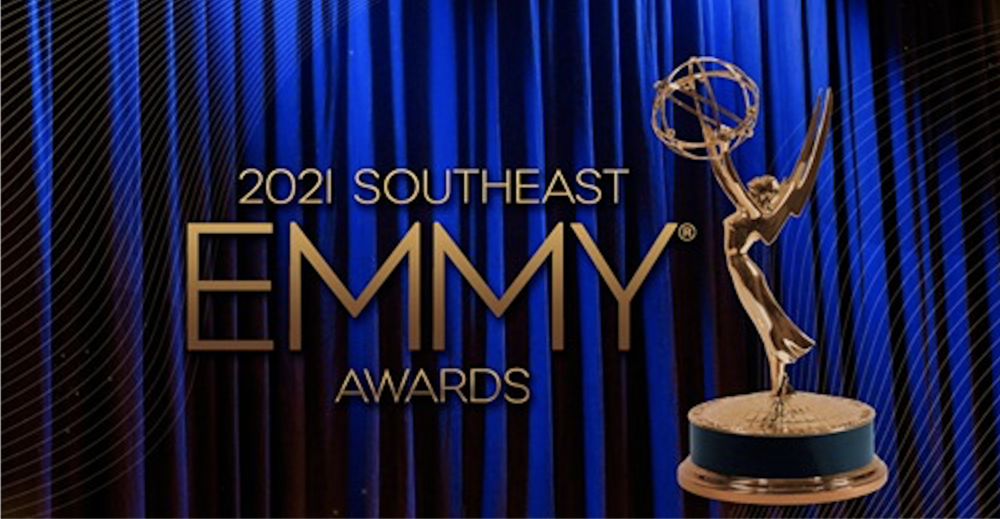 Problem Based
Service-Learning
,Academic Engagement Programs (AEP) have created a number of workshops to help students develop an understanding of "problem-based service-learning." By developing new partnerships with Engage Ventures, ATDC, and the Enterprise Innovation Institute (EI2), AEP has create additional student programs focused on social innovation and entrepreneurship with increased inclusion of women and minority entrepreneurs as future leaders. A tangible outcome of our efforts is seen with the winner of the 2021 InVenture Prize, Aya Ayoubi (featured below) from Jordan, who's social innovation focuses on helping the homeless with functional clothing.
 "Winning the InVenture prize means I could potentially help thousands of people. Thank you to all of the people who voted and thank you to all of the people who've helped me get this far. With people's support, we can make strides in decreasing the stigma against homelessness, too." In addition, Aya states, "I'd also like to thank my professor Herb Velazquez for speaking on my behalf at the event, as well as Recha R. Reid and Christopher Reaves who've guided me every step of the way."
Aya Ayoubi on winning the InVenture Prize
SLS's New Program Is Training the Next Generation of Public Interest Technologists
Serve-Learn-Sustain (SLS) was awarded a $90K grant by the Public Interest Technology University Network to fund a year-long community of practice that includes students, community partners, and faculty advisers.  SLS accepted 10 student fellows from four engineering disciplines (ISYE, ME, CEE, and ECE) and five community partners. The program launched in January 2021, and in the spring semester students were matched with partners to scope public interest technology projects.
GT Receives Top Rankings for Career Placements & Internships
This past year, the Career Center was nationally ranked for supporting our students. The 2021 Princeton Review ranked Georgia Tech #1 for career placement (student ratings of career services & salary information) and #2 for internships (student ratings) nationally. In addition, the 2020 U.S. News & World Report ranked Georgia Tech's internship and co-op programs #3 nationally. The Career Center shared these top rankings with partners across campus that help coach, support, and connect our students to their career aspirations.    
"I am truly grateful for my time as a Co-op with the Coca-Cola Company which taught me enduring values of integrity, leadership, and accountability. I found myself consistently surrounded by incredible people who I had the good fortune of getting to learn and grow from. I'd like to say a huge thank you specifically to my boss – Karen – and my three former mentors – Alexis, Kate, and Joe – for all of your guidance and support that's helped me to evolve both professionally and personally! Thank you to the Career Center for honoring me with this award!"
Jill Riley, Career Center 2020 Co-op Student of the Year
"I interned with the Systems division of IBM Research, which develops semiconductor technologies that will power future demands on IBM's servers and cloud computing systems. I worked remotely with a team based in Albany, NY, at IBM Research's chip fabrication facility. Despite being a new intern, I had the opportunity to work on the biggest day-to-day bottleneck in the fab: a process where silicon wafers that had been patterned and tested were "reworked" to be reused for other experiments. The process involves very corrosive materials, necessitating frequent part replacements. I remotely controlled experiments to identify a parallel process that could reduce load on the tool. My recommendations could reduce down time and save nearly $200,000/year in operating costs. Moreover, they exposed me to a wide cross-section of IBM employees across levels and sectors.
Working remotely sharpened both my technical and interspersonal skills through the added support that my project needed. I am sure these learnings helped me to be accepted at top graduate programs and will continue to benefit my research journey. I thoroughly enjoyed my experience and am so grateful to my manager, Brown Peethala, and mentors, Kedari Matam, Prasad Bhosale and Robin Schulz!"
Shashwati Da Cunha, Career Center 2020 Student Intern of the Year
InVenture Prize Contestants Wins TiE University Global Pitch Competition 2020
TiE Global hosted the 2nd edition of the TiE University Pitch Competition in Fall 2020. Cash prizes of close to $14,000 and almost $35,000 worth of in-kind prizes were given out to the 13 participants. TiE Atlanta's Aerodyme Technologies from Georgia Institute of Technology came in first, winning $5000. Aerodyme Technologies participated in Georgia Tech's CREATE-X Startup Launch program during summer 2019 and also won 2nd place in the 12th annual InVenture Prize competition in March 2020.